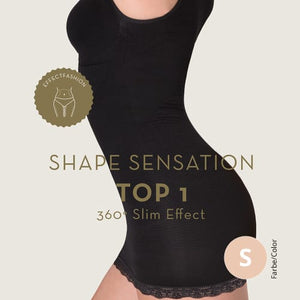 The Seamless Compression Top has a built-in bra with wide straps. The top without side seams has a golden "JUCHHEIM" weave in the knitted hem with elastic lace (2.5 cm wide).
Pure Luxury - Attractive Waistline, Flat Stomach and Firm Bust
The pleasantly soft and super-comfortable top with high integrated support shapes the waist, lifts the bust and ensures a flat stomach. The body contours are shaped and supported. 360° Slim Effect: Thanks to innovative textiles, body heat is reflected into the fabric, creating a lasting slim effect all around.
Effect Cosmetics & Shape Sensation Top 1
The combination of the Effect Cosmetics products Lipo Sculp or 3D Bodylift with Shape Sensation Top 1 is highly effective for the stomach. The slimming/lifting effect can be enhanced synergistically and sustainably.
Latest Trend - ByeByeCellulite cream & tights/shape-wear
The new way of body forming
Not only celebrities are fans of shape-wear. It simply makes dresses fall better, even skirts and pants fit perfectly.
The latest trend is now coming from Juchheim. ByeByeCellulite cream combined with the Juchheim shape-wear and tights: The MOST EFFECTIVE way of bodyforming is born. Simply apply the ByeByeCellulite cream - at first only in the evening because of the strong effect, after 1 week in the morning and in the evening - and wear the shape-wear during the day.
The clothing items by Juchheim immediately create a perfect shape and everything sits in its place.
At the same time, the cream starts to take effect and the shape-wear, with its special yarns and mineral additives, reflects the body heat as infrared rays into the body tissue. Lymph flow, blood circulation, and fat burning are activated.
The results are amazing: a lighter feeling in the legs, additional improvement of the appearance of cellulite, reduction of girth, visible body lifting, and a smoother skin appearance. - Simply WOW!