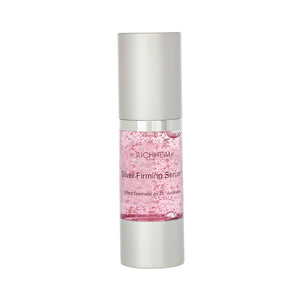 The serum restores elasticity and density of the skin, cleanses, and refines the complexion.
The Silver Firming Serum contains the central, award-winning active ingredient Neodermyl, which contains a molecule that supports the skin's own production of collagen and elastin. This can improve the elasticity and firmness of the skin. It can prevent the formation of lines and reduce the depth of existing wrinkles.
Content 30 ml/1.01 fl. oz.
This active ingredient was awarded the "Gold Award" at the "In-Cosmetics 2013" in Paris. The jury's conclusion confirms that the elasticity of the skin was improved and the depth of wrinkles was reduced by 15 % after only 15 applications.
The rare herbal active ingredients and vitamin B12 in Silver Firming Serum support the vitalization of the skin and can refine the skin's appearance.
The ultra-fine colloidal silver contributes to clean and clear skin.
Firmness and elasticity of the skin are restored.
Vitalization of the skin.
Cleansing and refining the skin complexion.