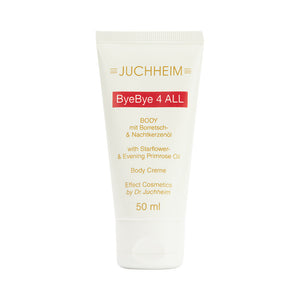 ByeBye 4 All Body contains a unique formula of active ingredients to stabilize the skin barrier and to soothe and care for irritated skin.
If the skin barrier is damaged, the protective function of the skin is increasingly lost. The skin's natural water content can no longer be maintained and the skin becomes more and more dehydrated. The consequences are redness, itching, inflammation, cracks and flaking.
The unique triple formula with borage oil, cannabidiol and evening primrose oil can quickly and permanently stabilize the skin barrier and soothe irritated skin. Frankincense and aloe vera have a supporting effect and complement this valuable formula.