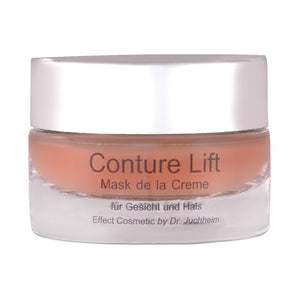 Extraordinary special effect creme (15ml)
Just brush off the appearance of lines and wrinkles.
Make an exceptional, all-changing experience. Conture Lift Mask de la Creme is the summit of luxury anti-wrinkle cosmetics with incredible effect. You will be delighted to experience the creme's smoothing effect in just a few minutes. You feel the power balance of the skin that can be seen immediately.
This innovative formula is the culmination of science, medical skill and visible effectiveness. There is nothing comparable. Often the surprise is great when looking into the mirror - a significantly younger appearance within a few minutes.