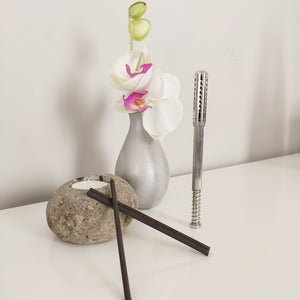 It is a therapeutic method of Traditional Chinese Medicine that, through the application of heat at different points (which are the same as in acupuncture), manages to balance the physiological functions of our body, causing blood and qi (energy) flow better.

Thanks to moxibustion, we managed to rebalance our body. For this, the pressed root of the mugwort plant is used as a tool, which is given various forms, one of the best known is MOXA

Moxibustion uses the therapeutic properties of the root of the mugwort plant, also called Altamisa or St. John's wort

Mugwort characteristics:
Mugwort has essential oils, vitamins A, B, C and D, in addition to tannins, potassium, iron and magnesium.
Its properties are: digestive, anti-inflammatory, antimicrobial, anesthetic, etc.
THIS IS A SUPPLEMENTARY TREATMENT TO BE INCLUDED IN OTHER FACIAL .  TREATMENTS FOR A SUPPLEMENTARY CHARGE OF €7.